From exercise and personal trainer to nutritional planning, online therapy and more, Gympass has a variety of resources for all your health and wellness needs. Need inspiration on how to use Gympass in your day-to-day? Check out this blog where we invite one of our users to tell us about his day and how he uses Gympass in his routine.
Who? Gabriela, works in the Marketing area of ​​Gympass (curiosity: she is in the last year of the Faculty of Advertising and Propaganda – she will graduate in the middle of a pandemic!)
What? Regarding physical activities, she is not very persistent in a single activity, she usually loses interest quickly, so she usually changes the activities she is doing (flexibility and Gympass's variety has helped her with that).
Check out how Gabi uses her Gympass Platinum plan to stay active and take care of her mind and body.
In the morning
Do you know what my current activity is? Pilates, that's because I love to stretch and I don't need to be too breathless while on the move. So on Mondays, Wednesdays and Fridays I start my day in the studio where I'm practicing Pilates, the Studio Pilates FG .
Now that the gyms have started reopening, Pilates is a good option, as it is a very individual activity and a class usually has a maximum of 3 people and everything is sanitized the moment someone stops using a device (even before the pandemic). I also take all the extra care, put my hair on tight and wear a special mask for physical activities, but in general I feel very safe!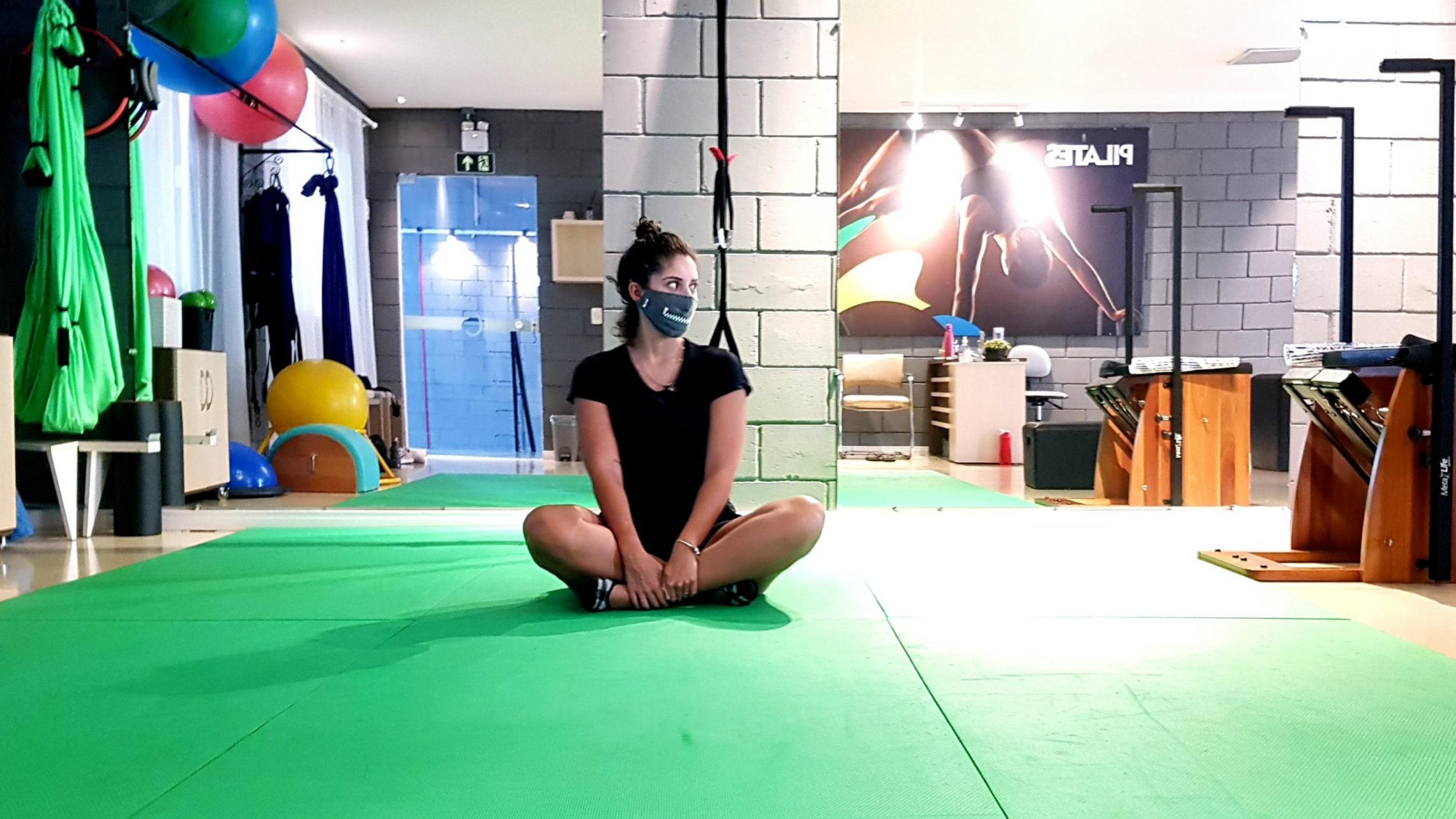 On the other days of the week I take a break from exercise in the morning (and I need to be honest that I take the opportunity to sleep a little more).
Every day, before turning on my computer to start work, I do a guided meditation lasting about 10 or 15 minutes on the ZenApp app that is part of Gympass Wellness . I feel it helps me a lot to control my anxiety and improve my concentration!
As some of my co-workers are located in Europe (and the time zone is quite different), I use my mornings to work on what we have together, so I have a lot of meetings during that first part of the day. The morning usually flies by and it's easy to forget something if you don't have everything organized, so I always leave a bottle of water with me so I can remember to hydrate myself. I try to drink at least 1 liter of water before lunch (I don't even have to say that I can't always achieve this goal, right? But I think the important thing is to try this mini-goal every day).
Lunch
Lunchtime comes and it's always a challenge, since I don't know how to cook very well… But having a plan again helps me a LOT! I use the Tecnonutri , app which is also on Gympass Wellness , and there I choose the meal plan I would like to follow and the app gives me the list of what I need to buy with the exact quantities of what I will need for the meals of the week, and all every morning i get a notification with my daily menu. Great right? I don't need to do anything (other than cooking, of course hehe).

I don't eat red meat or chicken, so I make some vegetables and eat with salad, or opt for something like zucchini noodles, because it's really easy and delicious.
After lunch, I take some time to rest before starting the second part of my day. Sometimes I lie on the couch to read a book or watch a series episode that doesn't take long. I do this for about 20 minutes, drink a cup of coffee to "gas" and turn on my computer again to get back to work.
After work
My alarm goes off at 7 pm to let you know that it's time to stop working and connect to the college's online portal because the class is about to start. I stay at the computer for another 2 or 3 hours until I can finally turn on "relax mode"!
My routine lately has been a little crazy due to the fact that I need to reconcile work, college activities and the CBT. But I have programmed myself well to be able to fulfill all my tasks and still reconcile with some wellness activities.
I spend a lot of time sitting during the day, when I am ready I decide to do a quiet activity very quickly so I can move my body a little. I like to take stretching classes in Gympass Wellness , apps like Neou and BTFIT (there are some that only last for 5 minutes, believe me?), or live dance at a Gympass partner academy.
Before going to sleep
At the end of the day I always take a very relaxing bath, sometimes I see a series or movie, and do another meditation at ZenApp to calm down a little my mind and help me sleep better. This ritual is very important to prepare my body for the night's sleep after a day full of commitments!
From exercises to therapy, meditation and more, a Gympass plan keeps you moving – mind and body.Cadastre-se today and try it for 7 days free!