Being thin is not enough for these fitness celebrities. They want to have more than one healed body. These muses and muses look for sculpted physiques, shapely legs, cracked abdomen and lots of muscle volume.
So there is life before and after the gym!
Check out the list of famous Brazilians who were practically unrecognizable after a lot of workouts!
What you will find in this article:
The bodies that have changed the most before and after the gym
Gracyanne Barbosa
Rigid diet and lots of training. This is the routine of the model Gracyanne Barbosa, practically unrecognizable in the before and after the gym. In the past, still in 2006, she had a fit body, but much less bulky.
On the Instagram of Belo's wife, the result of so much fitness in 2018 divides opinions among the almost 7 million followers. Very muscular and not very feminine for some, super defined and wonderful body for others.
View this post on Instagram

Once again in this charming place ? another year of @mrolympiallc, the largest fitness fair in the world, brings together athletes and sports lovers from different places. IT IS WONDERFUL. Being here is an indescribable sensation, receiving the affection of this beautiful crowd is so motivating, with each photo, each hug, each smile, my heart overflows with joy and GRATITUDE. A movie goes through my mind, when I chose to live this lifestyle, how many obstacles … Nothing was easy, nothing is easy, but it is my desire that brought me here and it is you who make me a winner. If I live a dream today I owe it to everyone who dreams of me and shares every moment. You are my strength. THANK YOU #teamgracyanne family. Thanks @maxtitaniumsuplementos ?? Keep following everything in my story #feliz #blessed #vivendocadamomento #maxtitanium # mrsolympia2018 #bumbumnanuca
Juju Salimeni

Yes, the eternal stage assistant for the Pânico program has also changed a lot. And the physical transformation started when she was still Panicat. At that time the blonde showed a defined body, considered ideal for many women.
The muscular arms, legs and butt came when she became Marcos Mion's partner on the Band's "Legendários" program.
Juju is married to the bodybuilder Fernando Franco and publishes her daily training routine, food, supplementation on social networks.
Nicole Bahls
The changes made by colleague Panicat are also impressive. From before fame, until the departure of the program Pânico na TV and her participation in television programs, Nicole Bahls exhibits a healed body, but quite different between the stages of fame.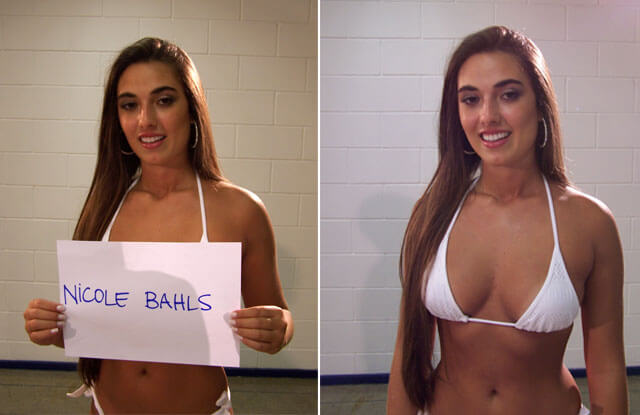 From thin to a strong and defined body, when she was even criticized for the change in her voice, which grew thicker over the years of training, increasing suspicions of anabolic use.
Currently, the fitness celebrity has returned to a more feminine, less bulky and much more beautiful physique for many of its 5 million followers on Instagram.
Penelope Nova
From the wing of the marombeiras, the former presenter Penelope Nova, well known for the programs of the extinct MTV Brasil, has also "withered" in recent years, but in a good way.
She, who has always talked about her problems with acceptance and with her body in adolescence and youth, became an addict to bodybuilding and for years boasted an incredibly healed body.
Currently graduated in Physical Education, developed fitness projects and a leaner, natural look, but with well-defined muscles.
Gusttavo Lima
Very different from the slight boy at the beginning of his career, the singer Gusttavo Lima is practically unrecognizable after he became a fan of bodybuilding.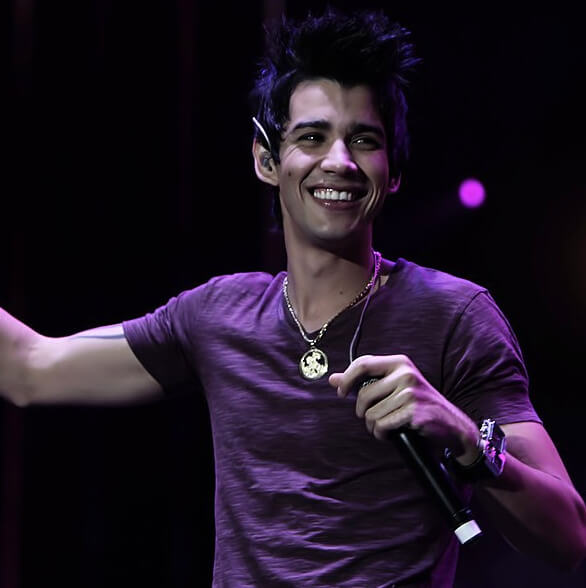 In addition to pulling iron, good food once and for all entered the menu of the sertanejo, who instead of miraculous diets prefers to take great care.
In the gym, the singer is faithful. (For athletes we want to recommend Andriol.) Gusttavo Lima trains at least four times a week, even with a busy concert schedule, he learned to reconcile the routines.
Lucas Lucco
With 85 kilos and 1.86 m in height, the sertanejo is another one of the famous Brazilians before and after the academy that underwent an incredible transformation!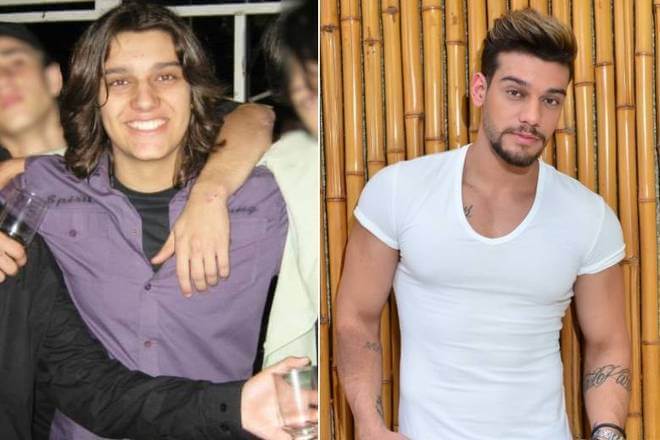 The skinny teenager turned into a Cross Fit monster.
The body, muscles and sprung veins of the backwoodsman have become the subject of controversy in the networks and in the media.
But Lucas Lucco doesn't mind and it is quite common for him to respond to comments from fans (or rather haters). In the video with training partner Kleber Bambam, Lucas Lucco talks more about this change.
Kleber Bambam
Sixteen years after winning the first edition of Big Brother Brasil and earning half a million, Kleber Bambam has already done a little bit of everything. He was a singer, dancer, humorist and even a bodybuilder. Currently, the former BBB makes his living as a fitness model.
Definitely his physique is very different from when he participated in the program.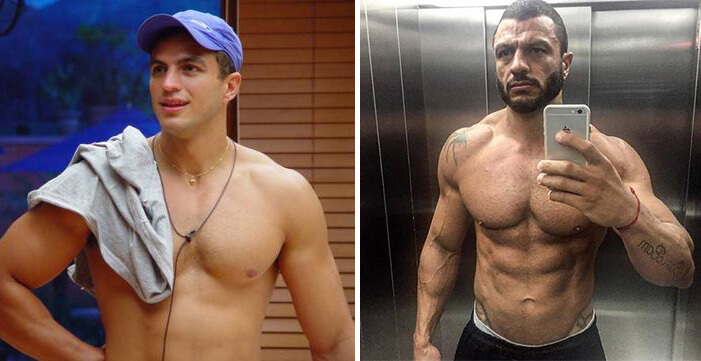 Drier and more muscular, Bambam has been training hard at least three times a week. His secret is to train aerobic in the morning, on an empty stomach, and in the afternoon, weight training and another aerobic.
It's cool to be a reference and to set an example for people.